Adventures Departing
Historic Darien Georgia
Join Georgia Tidewater Outfitters in Georgia's second oldest city where history and the nature come together in a city full of small town charm. Our boat, the Delta Belle, is docked on the Darien River and minutes from the pristine Lower Altamaha River Delta and virtually uninhabited barrier islands. Visit parts of the river that look like it did when Native American roamed the land. Experience world class bird watching. Explore historic forts and landscapes. Click a "Book Now" button to see the live calendar and prices.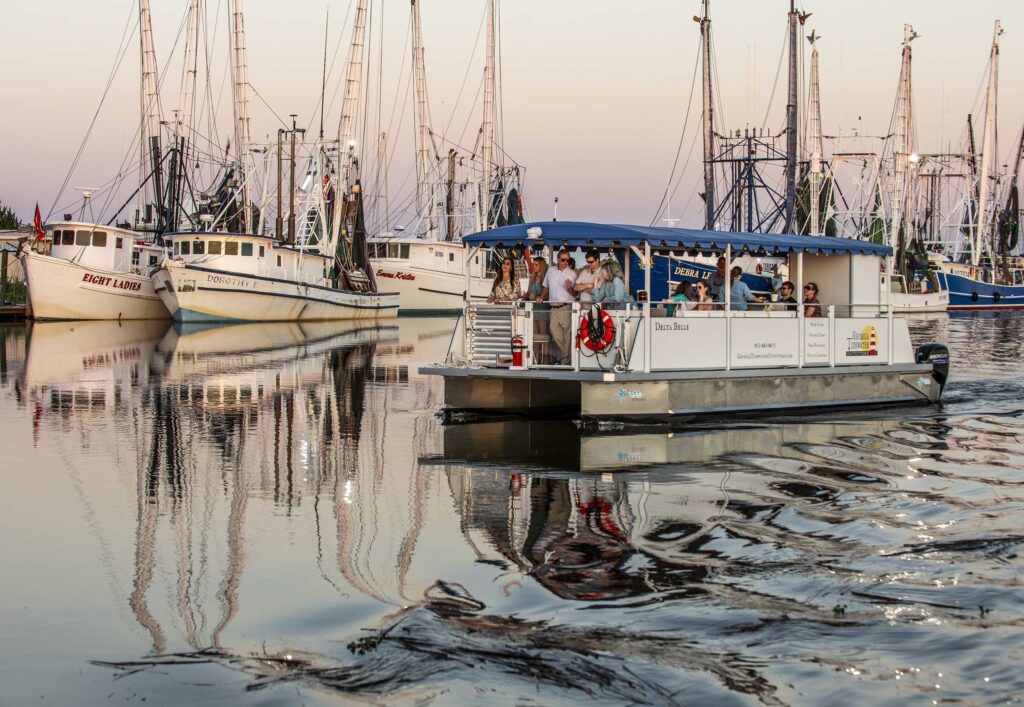 Book Your Adventure Today
Wine Tours and Nature Tours set up as Open Public Cruise booked per person but you can choose to buy out the cruise as a Private Tour for your group or corporate event. Private Charters allow you to truly customized your adventure. If you need more information visit the Tours Page. Have questions? Check out our Frequently Asked Questions. Also, click a "Book Now" button to see the current calendar.
Wine
Tours
Horse Creek Winery and Waterfront Wine & Gourmet present the "River Rafters Tasting Room." Enjoy a glass of wine and the views of the beautiful Darien River, the northern leg of the Altamaha.
nature
Tours
The Altamaha River Delta is best experienced by water. Whether you are interested in history, nature, or both let the Delta Belle get you up close and personal with this unique experience. See wildlife and wild places you will not soon forget.
Private
Charters
We are excited to work with you to design a charter that is your perfect adventure. You may be interested in a world class birding , a trip to a remote beach, or an extended tour of the river. Let us help make your plan a reality.
Images of the Altamaha River Delta
Beginning near Atlanta and north of Athens Georgia the Ocmulgee and Oconee Rivers flow through the piedmont past farms, fields, and industry joining in Lumber City to form the Altamaha River. Just south of this point, the Ohoopee River flows into the Altamaha. Running 137 miles from the confluence to the sea, the Altamaha drains ¼ of the state of Georgia delivering a major source of freshwater to the Atlantic Coast.
Just north of Darien, nearing the edge of the lower coastal plain, the Altamaha fans out into the Altamaha Delta. There are four major legs to the Altamaha Delta. From the south, the major legs are: the South Altamaha, Champney, Butler and the Darien Rivers respectively. The pulse of the Delta is the constant flow of freshwater meeting the incoming and outgoing tides of the coast. This ever-present pulse has dictated life on the Delta for millennia.
Find us Downtown Darien at the Waterfront Behind Skippers Fish Camp